iComfort E30 Smart Thermostat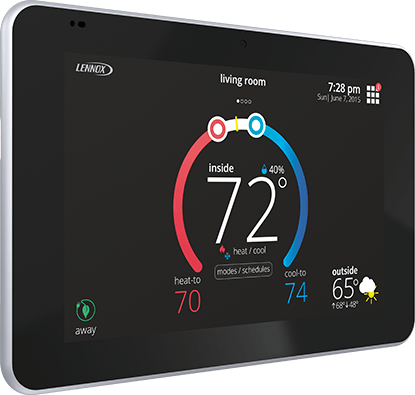 Compatibility with Alexa makes comfort even easier.
The iComfort® E30 is compatible with devices that feature Amazon Alexa*, which means you can control your home's environment with simple voice commands and never have to leave the couch.
Enjoy perfect integration with Apple HomeKit.
Thanks to robust compatibility with Apple HomeKit**, you can control your iComfort E30 with Siri using the phone you already have in your pocket, as well as pair it with an iPad, Apple TV or Apple HomePod.
Balanced Temperature and Humidity
The iComfort® E30's Feels Like™ feature creates the temperature you want to feel, not just the temperature you set—much like the "Feels Like" temperature in a weather report. So when you set it to 72°F, it feels like 72°.
The relief you need, exactly when you need it
The iComfort® E30's Allergen Defender monitors the air quality and pollen levels in your local zip or postal code and automatically turns the system fan on to clean your home's air when outdoor levels are high.
Perfectly in tune with your comfort needs
Set the iComfort® E30's Perfect Temp, and the system will automatically adjust heating and cooling to maintain that setting.
Smart comfort control and energy use
The iComfort® E30's Smart Away™ Mode uses the GPS in your smartphone to detect when you're leaving, and automatically adjusts the temperature to a more energy-efficient setting. When you come home, Smart Away returns your system to its normal schedule and a more comfortable temperature.
Active monitoring means you stay comfortable
The iComfort® E30 preserves comfort and peace of mind by actively monitoring system operations. Should any problem ever arise, you and your Dealer will be notified.
A beautiful display of innovation and simplicity
HD Video Screen Savers automatically change to reflect current outdoor weather conditions.
Complete control at home or away
Remote control of your home environment is just one touch or voice command* away with the iComfort® E30 smart thermostat. Monitor temperatures and schedules from anywhere in the world using the iComfort app and your smartphone, tablet or other web-enabled device.
Available on the App Storeand Google Play.